Dentistry As It Should Be
Dental EIS Investment
Dentistry is an amazing industry that relies on a simple dynamic 'more people, more teeth'. As the population grows so does the demand for dentistry. The ageing population that now rely on dental implants rather than dentures along with the unprecedented need to look good all the time has seen dentistry become more than just a simple clean and polish and has now turned it into an essential part of life for many.
Download Investment Memorandum
What our patients think
1,300 reviews from satisfied customers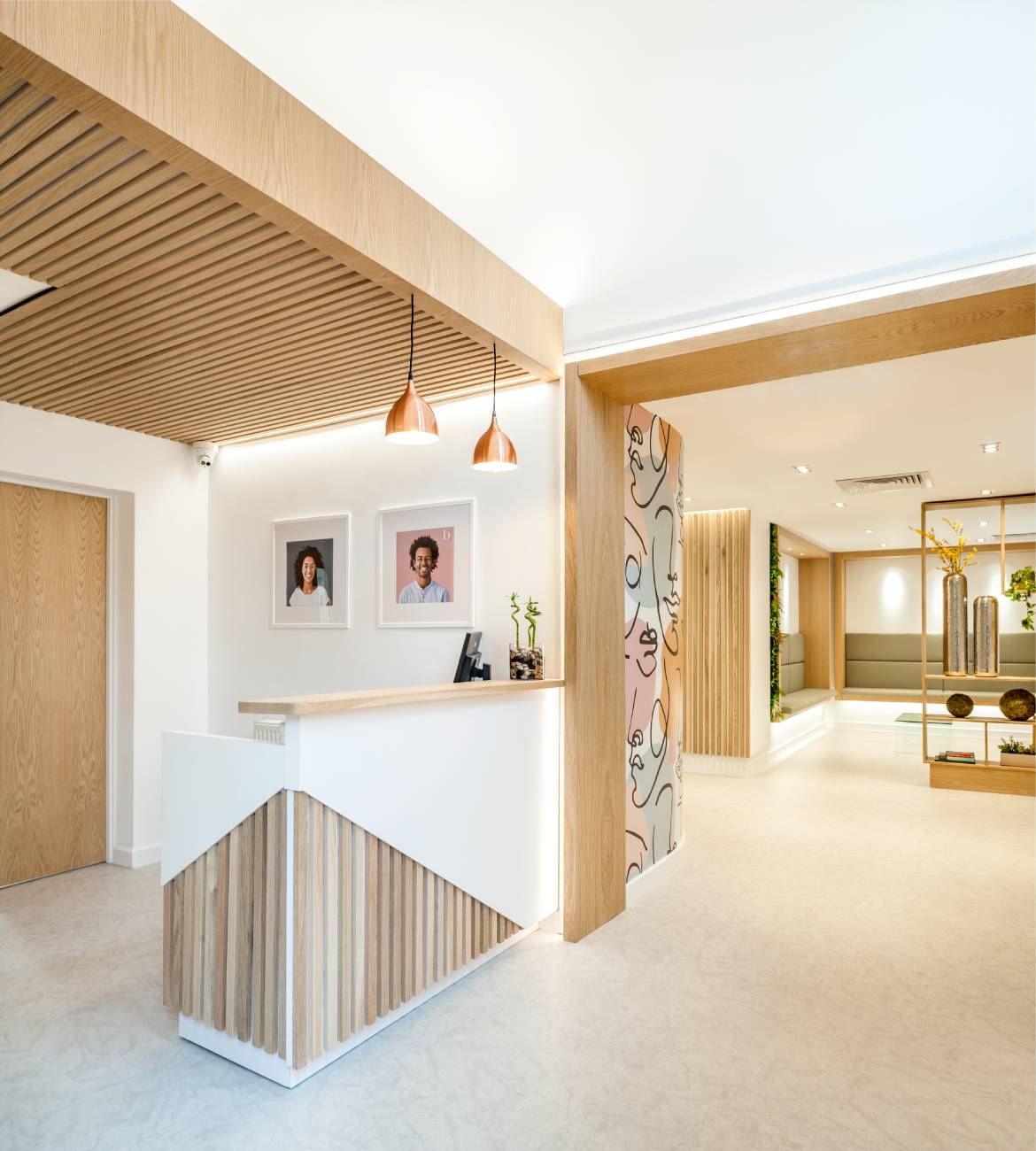 The Facts
Investment Headlines
Proven track record of 321% ROI in dentistry
Already trading with three locations funded
30% EIS income tax relief and CGT free returns
Direct investment with no fund manager fees
Certified Invisalign APEX provider as top 1% in Europe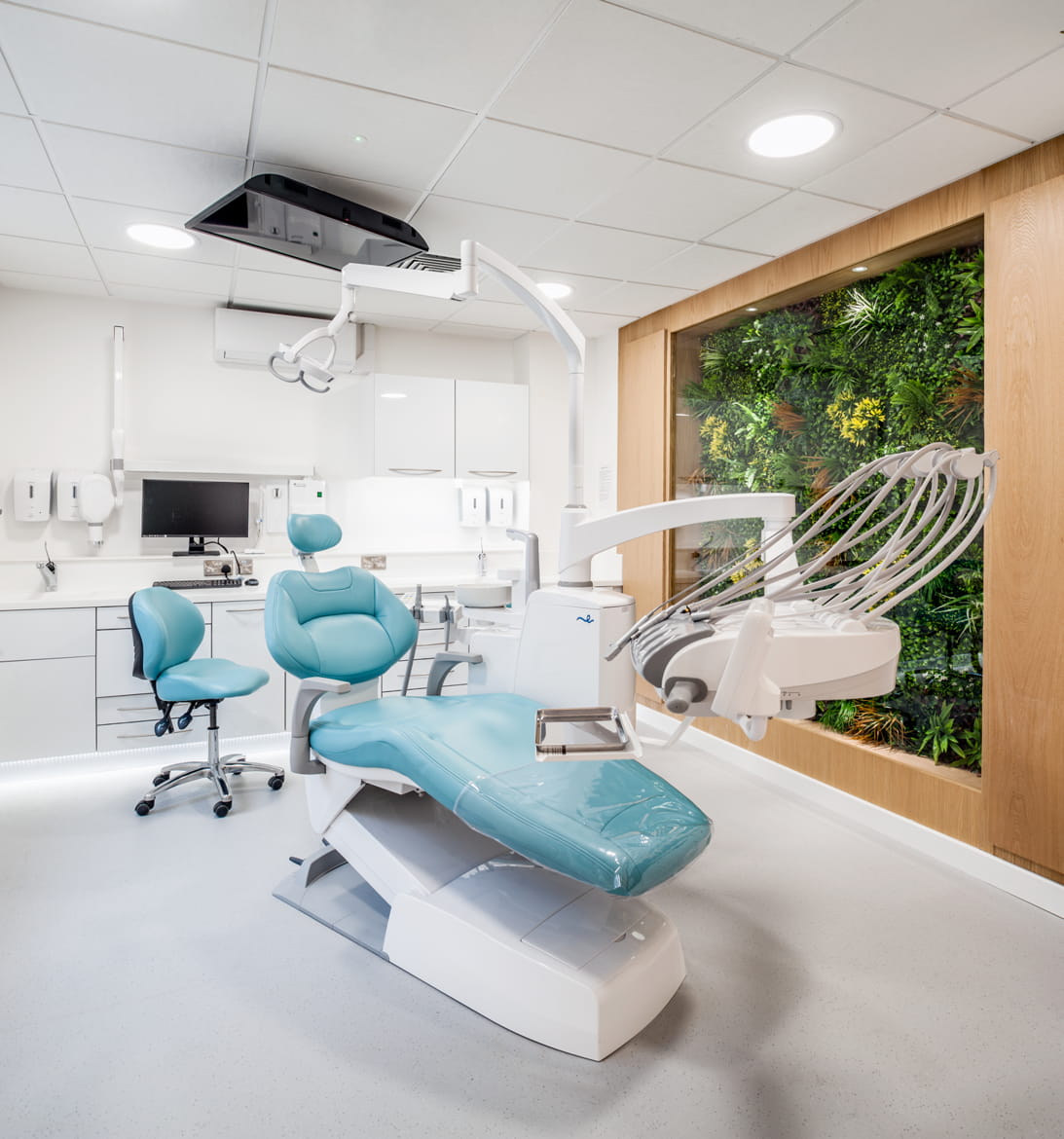 A History Of Success
Our Story So Far
We have been building award-winning private dental practices for seven years now. Over this period, we have built several multi-million-pound businesses. Starting from a zero-patient base and growing revenues to upwards of £1 million per year, per location, is not easy. However, our ability to do this time and time again has led to a model that we are confident in. It is a model that has already proven very profitable for our current investors.
Download Full Investment Memorandum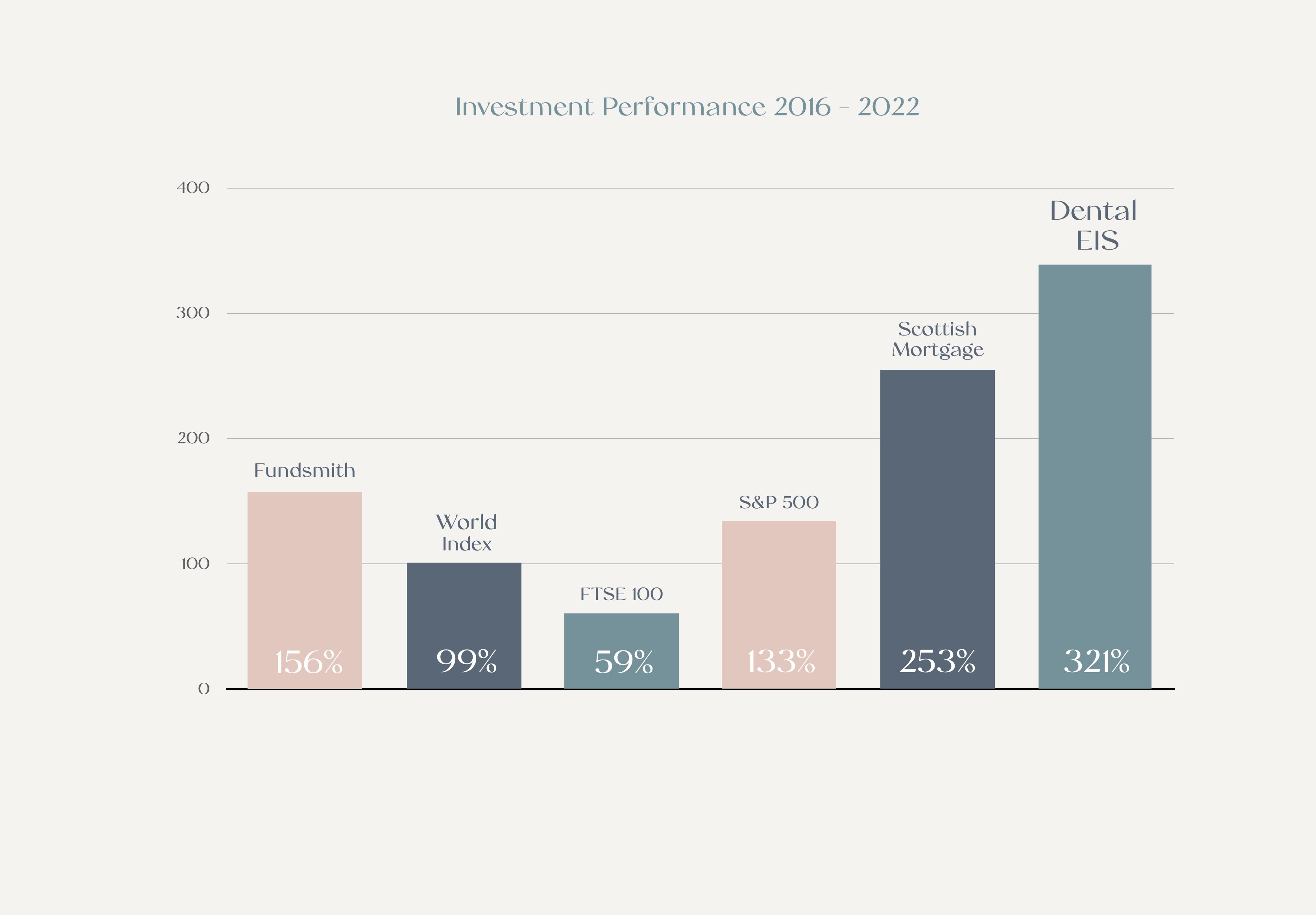 EIS Proven Track Record
Market Beating Returns
We have a proven track record of providing EIS investors with index-beating returns on investment in the private dental sector.
Our first dental investment has just exited our seed round investors with an incredible return of 321% over a six-year period. This investment has outperformed all of the major stock market benchmarks and even the best performing funds in the world over the same period.
Our second dental investment is also valued at north of £1 million and will provide a similar return on investment in 2023, when we plan to perform a management buy-out to provide an exit for our seed investors.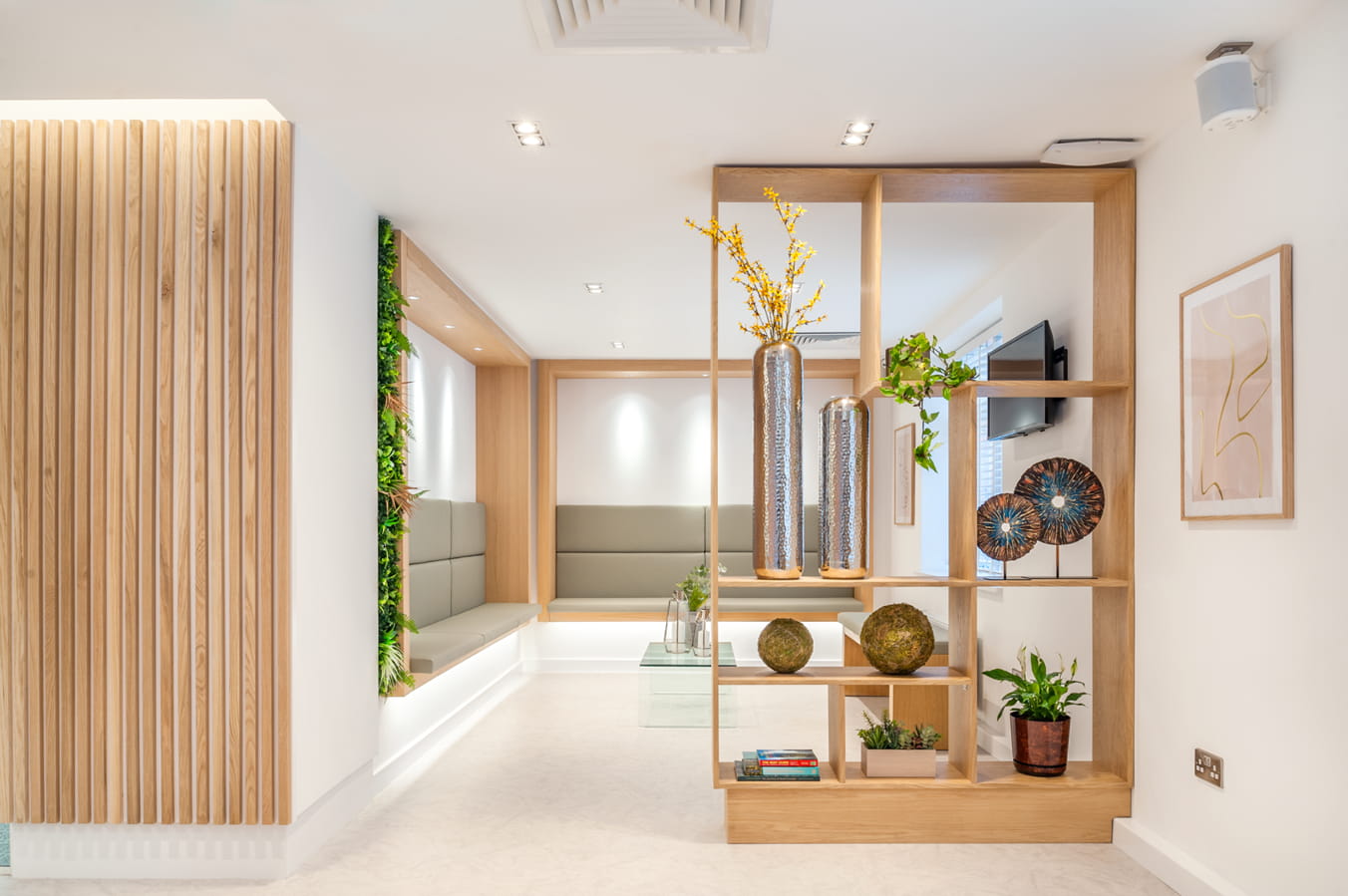 Dentistry As It Should Be
Our Plans For Beyond Dental
The stage one vision for Beyond Dental is to open ten private dental practices in a band of the UK that stretches from the Midlands down to the M25 and Bath. Geographically this is a high-wealth area where we have identified clear demand.
We have already raised £1 million from other investors and funded our first three locations in Leamington Spa, Solihull, and Worcester. We intend to open three more in 2023 and the final four in 2024 to complete the ten practices.
At this stage, the business will be self-funding for further expansion, and this will greatly increase the ROI for our EIS investors as the business will continue to grow without the need for further investment.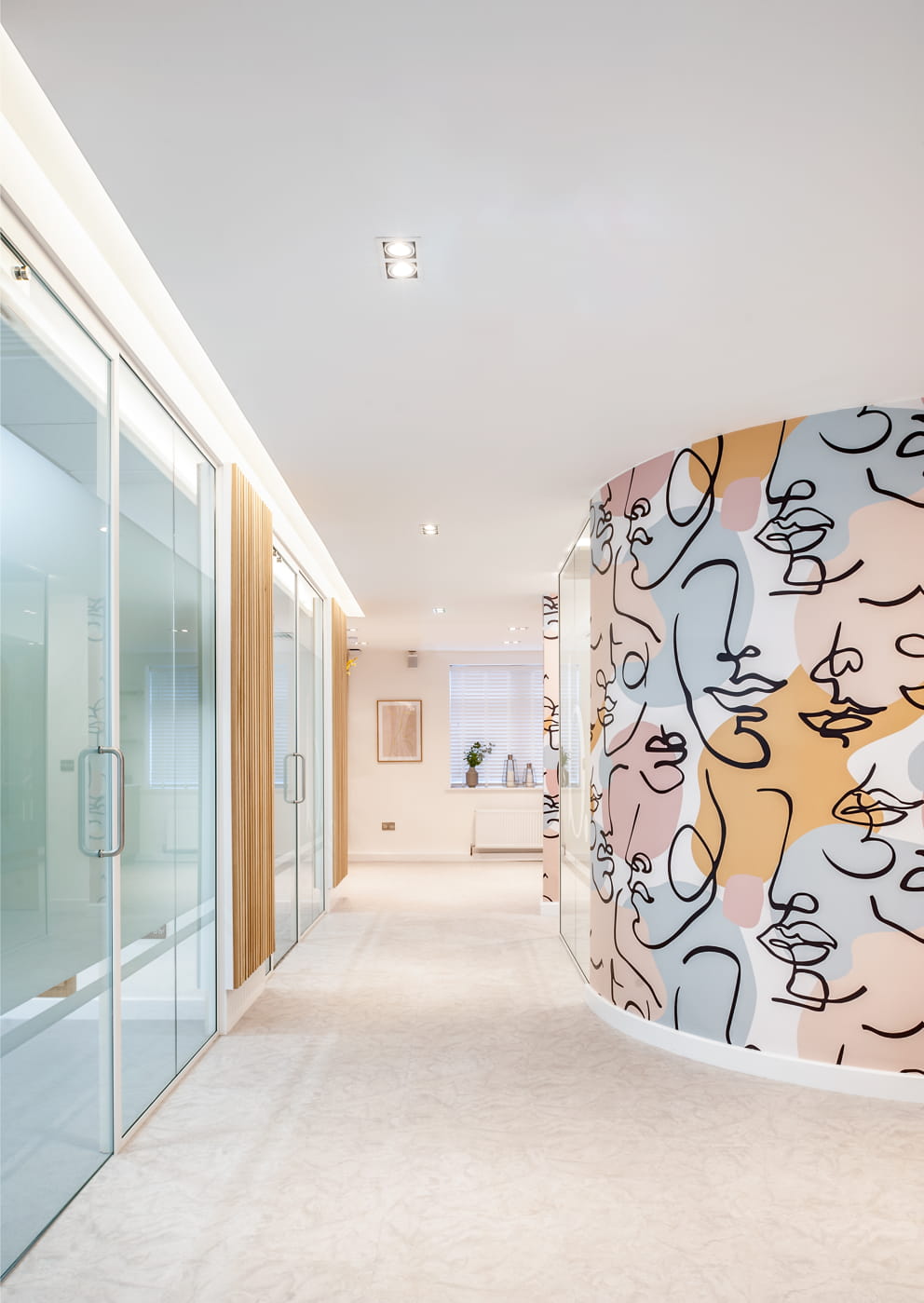 Limited availability
Funding Round 2
After the success of our first tranche of £1 million funding round, we are now pleased to be opening our second tranche of funding for a further £1 million. The funds will be used to build a further three locations in 2023 and move another step closer to our goal of ten practices. With further funding expected from tranche one investors, we are expecting limited availability for this new tranche, so register your interest early to avoid disappointment.
Register Your Interest Now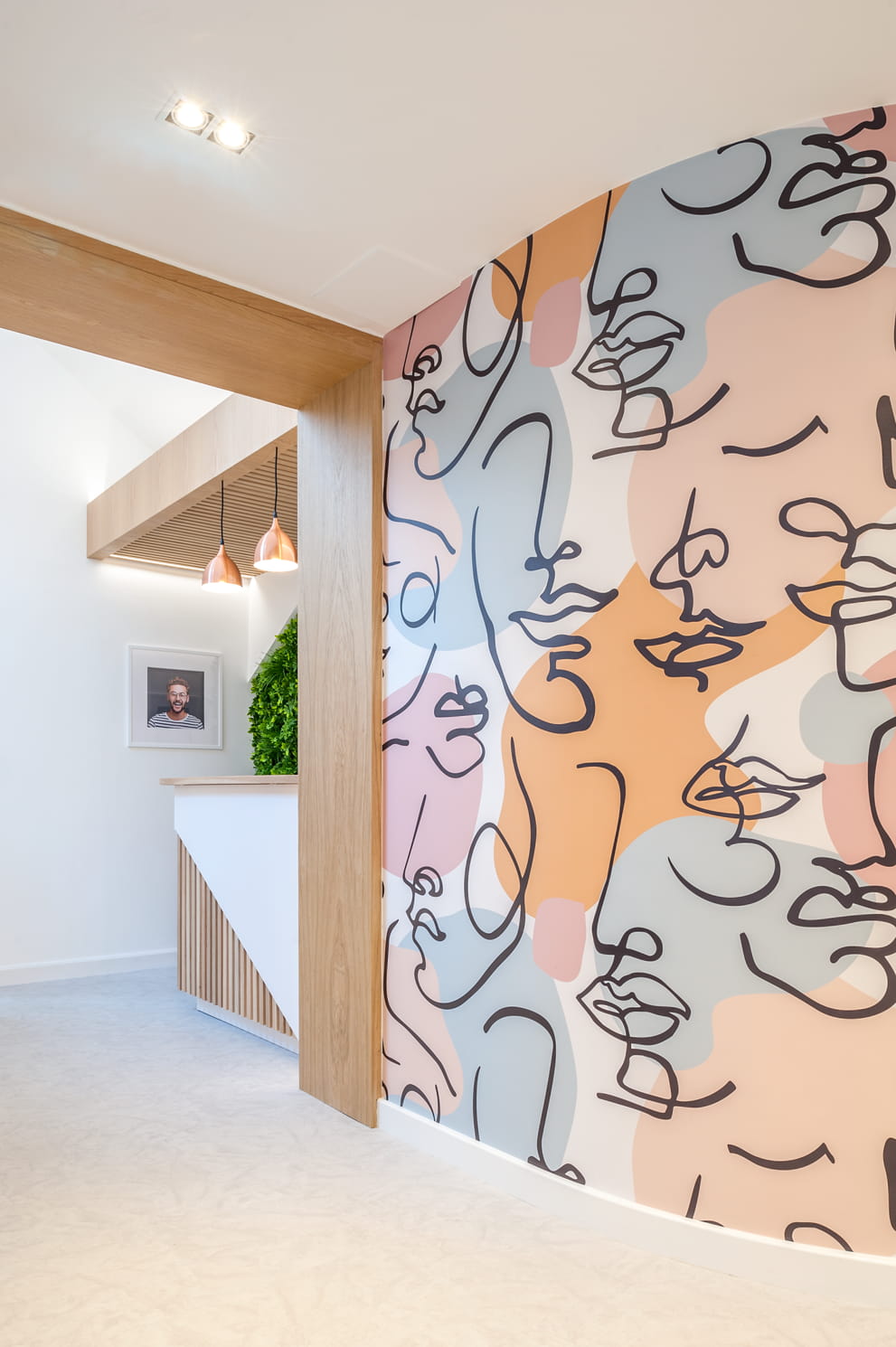 Interested In Finding Out More
Download Our Full Investment Memorandum
We would love to share more information with you about this opportunity, however, it is only open to self-certified sophisticated or high net worth investors who understand the risk of investing in unlisted limited companies. For more information, please contact us today.
Download Your Investment Memorandum Now
I found beyond dental to be very welcoming. They explained all treatments clearly. And made me feel at ease. Being a nervous patient. I would recommend this dental practice
Wow! Fabulous dentist! Just registered myself and my two children after reading reviews. Went for our new patient check today. We're all nervous patients and have avoided the denist too long but the AMAZING team put us all at ease! The surgery, ethos and service are outstanding.
Calm environment and the receptionist is friendly. She sits with you to go through your introduction and asks if you have any concerns or worries. Dentist is very informative including showing you a 3D scan of your mouth. There is a screen on the ceiling so you can watch TV to distract you. It's not often you can say going to the dentist is a pleasant experience, but this really is.
What a fabulous dentists! Such a relaxing atmosphere and the staff are all so friendly. I especially love the brush stop where I brushed my teeth before I went in to see the dentist. As a busy mum of 3 this is such a handy thing to have and something I've never seen before. Now I've found Beyond Dental I wouldn't go anywhere else.
What an absolute gem this place is! They have made this the most enjoyable visit to a dentist I've ever experienced. From the "brush stop" which is gorgeous and lets you brush your teeth before your appointment, to the beautiful green walls it is something to experience. I've never been excited to go back to the dentist before, but I am now!